Do you take time for yourself each morning before starting your day? The wise saying, you can't pour from an empty cup is so relevant here. Make some time to stretch the body first thing in the morning so that you can present your best self to others throughout the day.
Try the 5 yin yoga poses described below, and then let me know how this bit of time on your mat affects the rest of your day.
As always in Yin, find your edge (with just a bit of sensation), be still, and then hold each pose for about 2 minutes (per side).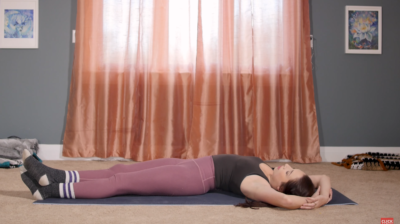 Banana Pose – Lay down, shifting hips over to the right side of your mat. Bring your head and shoulders over to the left side. Extend the legs out, walking the feet over to the left. Push down through the right hip and shoulder, stretching the side body in a crescent shape. To intensify the stretch, clasp opposite elbows and cross the right ankle over the left. After holding for 2 minutes or so, ease to the other side. Perhaps taking a few breaths in neutral first.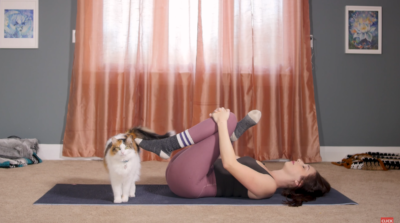 2. Reclined Swan – Align the spine in the center of your mat. Cross the right ankle over the top of the left knee. Flex your right foot. Hold here, or reach through with the arms drawing the left thigh in. A little bit of muscular effort in the arms here, but keep the shoulders relaxed and head down. Try to relax the right leg completely. Slowly switch legs.
3. Caterpillar – Come up to a seat. Extend the legs out in front of you, hip width distance apart. Start to passively fold forward. Bend into the knees if it feels good. Let your spine round. Don't worry how deep you go. Stay with your breath as you fully relax and release.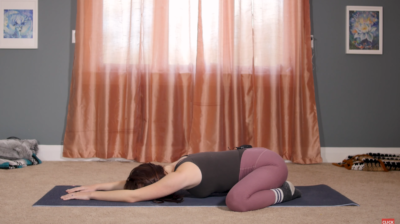 4. Child's Pose – Come up to hands and knees. Bring the big toes together to touch and take the knees as wide as feels good. The wider they are, the more intense the pose. Walk your hands forward as you melt down. Bring the forehead to rest on the mat. Relax the shoulders down the back. If it feels too intense, bring the knees closer together.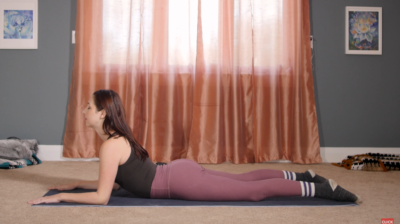 5. Sphinx – Lower down to the belly, with the forearms on the ground in front of you. Point the toes back behind you. Open through the chest, shoulders and upper back. Think of pulling the heart forward, as you drag the elbows back. Keep the chin parallel to the ground. There should be no compression in the low back. Push through the pubic bone, reaching the tailbone back. As you breathe here, feel the ribs expanding front to back and side to side.
These 5 Yin poses come from a 20 minute morning yin yoga practice I released on my YouTube channel.
Namaste,
Kassandra